1. STANDARD LATHE MACHINES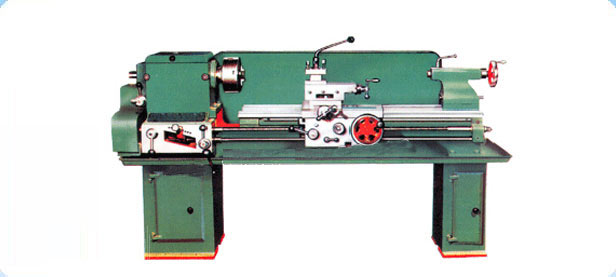 Backed by proficient team personnel, we Guru Nanak Machine Tools are engaged in manufacturing V-Belt Lathe Machines with simplest design and robust construction. The accurate design of our V-Belt Driven Lathe Machine assures precise performance, easy operation and higher productivity. In order to assure qualitative manufacturing of our Heavy Duty V-Belt Drive Lathe Machines, experts in our firm use the materials which are selected ones. All our Belt Lathe Machines are manufactured strictly on quality basis to give long trouble free service. This range of machines is engineered in order to provide smooth and consistent operation with low maintainable cost. Our superior quality machines can also be customized as per clients' specifications and requirements. The V-Belt Driven Lathe machine that we offer is massively demanded because of being highly energy efficient with an extensive working life.
| | | | | |
| --- | --- | --- | --- | --- |
| DESCRIPTION | MODEL BD-1 | MODEL BD-2 | MODEL BD-3 | MODEL BD-4 |
| # Length of Bed | 4'-6" 1371 mm | 6'-0" 1830 mm | 6'-6" 1981 mm | 8'-0" 2439 mm |
| # Width of Bed | 11" 280 mm | 11" 280 mm | 12" 305 mm | 12" 305 mm |
| # Centre Height | 9" 228 mm | 9" 228 mm | 9" 228 mm | 9" 228 mm |
2. MICRO LATHE MACHINES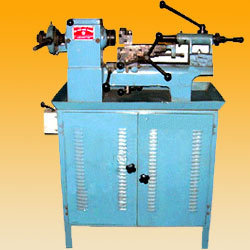 We Guru Nanak Machine Tools are a promising manufacturer of superior grade Micro Lathe Machines that are mainly used for Trob Machine IInd Operation. This Industrial Micro Lathe Machine is designed as per our client's specific requirements. Manufactured from the finest grade raw materials sourced from reliable vendors, these Mini Lathe Machines are highly reliable, durable, and resistant from rust. Designed under the firm direction of our experts, these machines are very easy to install, operate and maintain. Heavy duty lathe machine that we offer is known to give maximum efficiency and reliable performance under the most severe conditions of service with minimum maintenance cost. Known to cater need of sustained accuracy and superb finishing, this range is widely demanded by our esteem patrons.
| | |
| --- | --- |
| DESCRIPTION | MODEL ML-I |
| # Length Of Bed | 2'-0" 610 mm |
| # Collet System | A-25 (PMT), A-42 (PMT) |
| # H.P. Required | 1/2 H.P. |
| # Apprx. Wt. Of Machine | 150 Kg. |
3. HIGH SPEED SMALL LATHE MACHINES

Designed as per our client's specifications and requirements, the Small Lathe Machines offered by our firm Guru Nanak Machine Tools are highly qualitative in functioning. All these Small Lathe Machines have user-friendly design, robust construct and are durable in service. This Light Duty Small Lathe Machine is easy to install and is suitable for shaping and Turning soft materials. The offered high performing heavy duty lathe machine are high on demand in small scale enterprises. These machines are famous for precision jobs, accuracy and trouble free performance. All these machines are fabricated from superior quality raw material to ensure extreme level of durability. Manufactured as per International standards, these machines offer highly credible and reliable performance. Also, we offer this range at the most discounted price tags in the domain.
Standard accessories: Chuck Plate Accessories at extra cost: electric motor, reversible switch, 3 jaw self centering chuck, 4 jaw independent dog chuck, motorized coolant pump with cabinet & fitting, rear tool post with special cross slide and machine lamps .
| | |
| --- | --- |
| DESCRIPTION | MODEL SL-I |
| # Length of Bed | 3'-6" 1065 mm |
| # Width of Bed | 11" 280 mm |
| # Centre Height | 8" 203 mm |
| # Hole of Spindle | 1-3/4" 45 mm |
| # Collet System | A-25 (PMT), A-42 (PMT) or As Per Customer Specification |
| # H.P. Required | 2 H. P. |
| # Apprx. wt. of Machine | 400 KG |
4. ALL GEARED LATHE MACHINES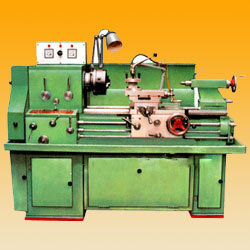 Clients can avail from our firm Guru Nanak Machine Tools a qualitative range of lathe machine which has all gear head. These All Geared Head Lathe Machines are easy in use and demand negligible maintenance. Offering high resistance to corrosion and abrasion and durability, our Heavy Duty All Geared Head Lathe Machines are actively used in various workshops and automotive industry. Admired for timely delivery, competitive prices and customer friendly policies, our Geared Lathe Machines have gained huge demand all over the domain. These machines are very strong and easy to move from one place to another. With excellent smoothness and perfection our geared lathe machines offer perfect operating ability. Offered lathe machines are fabricated by our professionals in adherence with the international quality standards & norms.
| | | |
| --- | --- | --- |
| DESCRIPTION | MODEL MD-I | MODEL MD-II |
| # Length of Bed | 5'-0" 1524 mm | 6'-0" 1830 mm |
| # Width of Bed | 11" 280 mm | 11" 280 mm |
| # Centre Height | 9" 228 mm | 9" 228 mm |
| # Centre Distance | 31" 787 mm | 43-1/2" 1100 mm |
| # Over Bed | 16" 406 mm | 16" 406 mm |
| # Swing Over Slide | 12-1/2" 317 mm | 12-1/2" 317 mm |
| # In Gap Dia | 23" | 23" |
5. DRILL MACHINES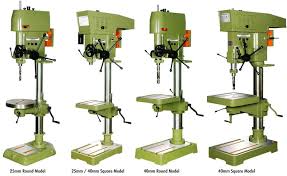 We are offering our clients an exotic range of Drill Machine. In addition, its superior sturdiness and unmatched resistance to corrosion, gives the offered drill machine a longer life. The provided drill machines are quality approved by the industry for its accurate design and superior performance. These provided drill machines are made using the latest metallurgical techniques and are precision engineered to suit the area of application to which they are applied.

Features:
- High strength
- Rugged design
- High Durability
6. SPECIAL FEATURES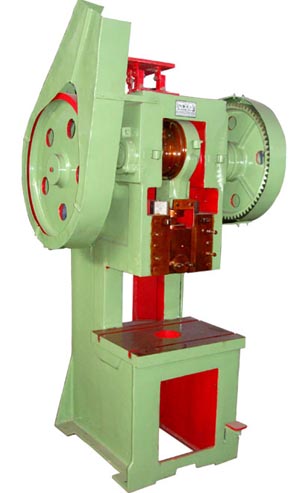 | | |
| --- | --- |
| FRAME | Made of steel body with high grade quality, properly seasoned, after rough machining. Bearing surfaces are hand scraped. |
| CRANK SHAFT | Made of special steel stock, to with stand the effective load, properly machined, ground all over, fitted in bushes with high accuracy. |
| FLY WHEEL | Made of high grade cast iron and is designed to generate the required energy. |
| BRAKE | The brake is powerful and works on the top dead centre and compensated by springs. |
| RAM SLIDE | Made of cast iron with high grade quality, properly seasoned, after rough machining. Bearing surface are hand scraped, with reamed hole for die clamping. |
| STROKE | Presses are manufactured with adjustable stroke and adjustable can be made by means of a worm. |
| ROLLING KEY | The key is "double key rolling type" made out of special alloy steel EN series. |
| CLUTCH | The clutch is very rigid, better supported, and less liable to suffer damage under heavy operating condition. The Clutch gives continuous stroke for mass production. |
| EJECTOR & DOUBLE KEY | These are provided specially for the use of springs dies on special order. |
| LUBRICATION | An efficient lubrication system has been provided to lubricate the sliding surfaces and moving parts. |
| DRIVE | Presses are usually manufactured motorised but "Belt driven" presses can be supplied by on special orders. |
| | | | | | | | | |
| --- | --- | --- | --- | --- | --- | --- | --- | --- |
| Capacity in Tons | 10 Tons | 20 Tons | 30 Tons | 50 Tons | 75 Tons | 100 Tons | 150 Tons | 200 Tons |
| Bed Size | 304 x 406 | 355 x 508 | 457 x 609 | 508 x 711 | 533 x 762 | 609 x 889 | 711 x 1168 | 812 x 1219 |
| Height Bed to Ram | 215 | 241 | 266 | 305 | 330 | 355 | 406 | 457 |
| Punch Hole Size | 28 | 32 | 35 | 38 | 44 | 50 | 57 | 63 |
| Strokes per min. | 70 | 70 | 65 | 55 | 55 | 45 | 40 | 30 |
| Ram Adjustment | 26 | 26 | 26 | 26 | 26 | 38 | 38 | 38 |
| Shut Height | 1524 | 1650 | 1880 | 2032 | 2160 | 2388 | 2540 | 2794 |
| Stroke | 57 | 63 | 76 | 88 | 109 | 114 | 127 | 152 |
| Hole in Bed | 102 | 114 | 127 | 152 | 178 | 20 | 228 | 254 |
| Power Required | 2 HP | 2 HP | 3 HP | 5 HP | 5 HP | 7.5 HP | 10 HP | 15 HP |
| R.P.M. | 1440 | 1440 | 1440 | 1440 | 1440 | 1440 | 1440 | 1440 |
| Pully Size | 6" | 6" | 6" | 6" | 6" | 7" | 7" | 8" |