1. SPUR GEAR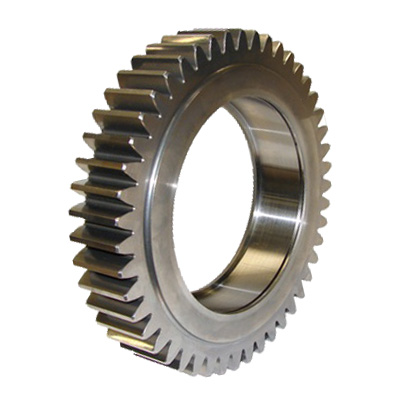 The Spur Gears can be manufactured from 0.5 Module to 10 Module with a minimum outside diameter of 8 mm to 1500 mm. All type of Spur Gears of any class can be manufactured. We can also design Gears as per the customer's requirement. Cluster Gears also include our product range.
2. HELICAL GEAR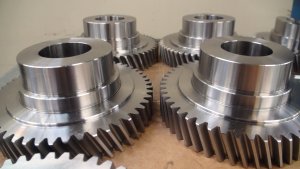 Similar to Spur Gears, Helical Gears can also be manufactured from 0.5 Module to 10 Module with any Helix Angle. Helical Gears confirming to any class can be manufactured. Helical Gears can also be designed to match the Customer's requirements.
3. WORM GEARS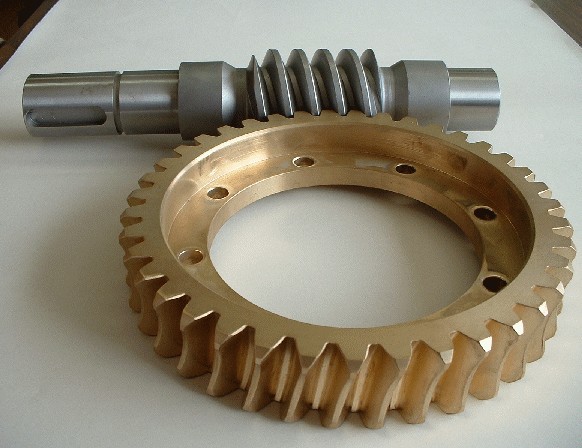 Worm Gears are manufactured to the required specifications with required accuracy. Worm Gears can be manufactured from 1 Module to 10 Module with a maximum diameter of 1500 mm. Worm Gears can be manufactured from all type of materials viz. Cast Iron, SG Iron, Alloy Steel, Aluminum Bronze, Phosphor Bronze, etc. Worm And Worm Gear Pairs can also be designed & manufactured.
4. INTERNAL GEARS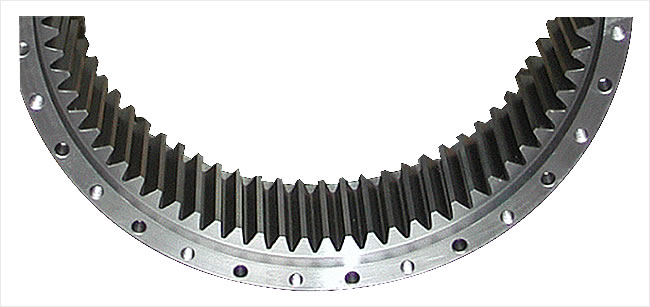 We can manufacture Internal Gear having minimum ID of 30 mm. The internal gears can be manufactured from 0.5 module capacity to 3 Module Capacity. Internal Gears having smaller ID,s can also be manufactured by way of Broaching.
5. BAWEL GEAR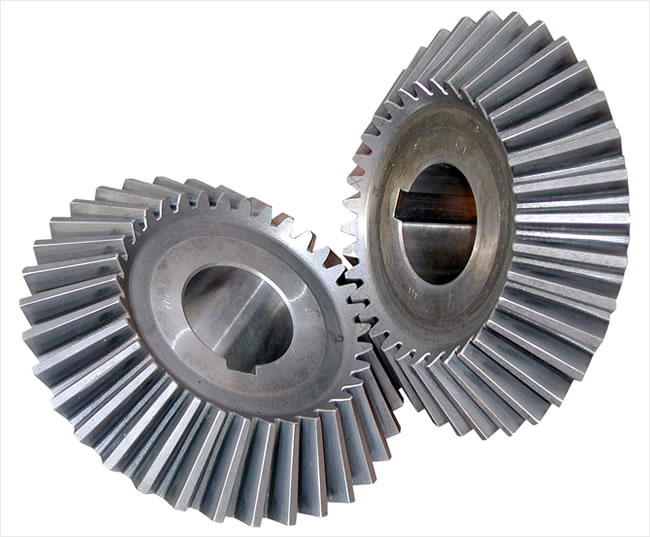 The teeth of this most commonly used type of bevel gear are straight but their sides are tapered so that they would intersect the axis at a common point called pitch cone apex if extended inward. The face cone elements of most straight bevel gears, however are now made parallel to the root cone elements of mating gear to obtain uniform clearance along the length of the point inside the pitch cone. Straight bevel gears are easiest to calculate and are economical to produce.
6. SPIRAL BAWEL GEARS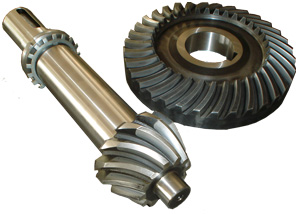 Spiral bevel gears have curved oblique teeth on which contact begins gradually and continues smoothly from end to end. They mesh with a rolling contact similar to straight bevel gears. As a result of their overlapping tooth action, however, spiral bevel gears will transmit motion more smoothly than straight bevel or Zerol bevel gears, reducing noise and vibration which become especially noticeable at high speeds. One of the advantages associated with spiral bevel gears is the complete control of the localized tooth contact
7. DOUBLE HELICAL GEAR OR HERRING BONE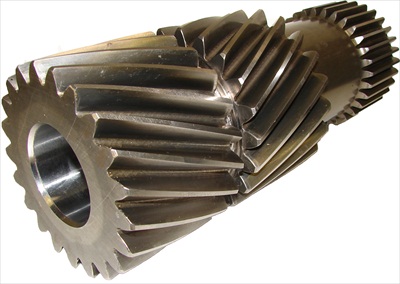 Double helical gears, or herringbone gear, overcome the problem of axial thrust presented by "single" helical gears by having two sets of teeth that are set in a V shape. Each gear in a double helical gear can be thought of as two standard mirror image helical gears stacked. This cancels out the thrust since each half of the gear thrusts in the opposite direction. Double helical gears are more difficult to manufacture due to their more complicated shape.
8. BIG HEAVY GEARS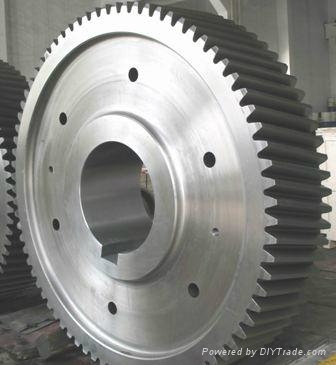 Job work of cutting heavy industrial gears being done . 1500mm
9. INNER SPLINE GEAR CUTTING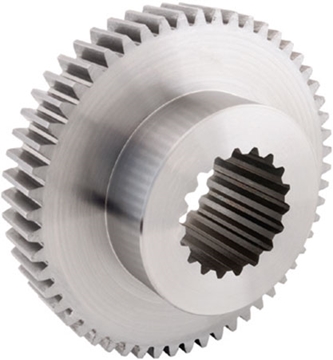 Gear made with inner spline so that shaft attached with the gear to drive the gear .
10. CHAIN SPROCKETS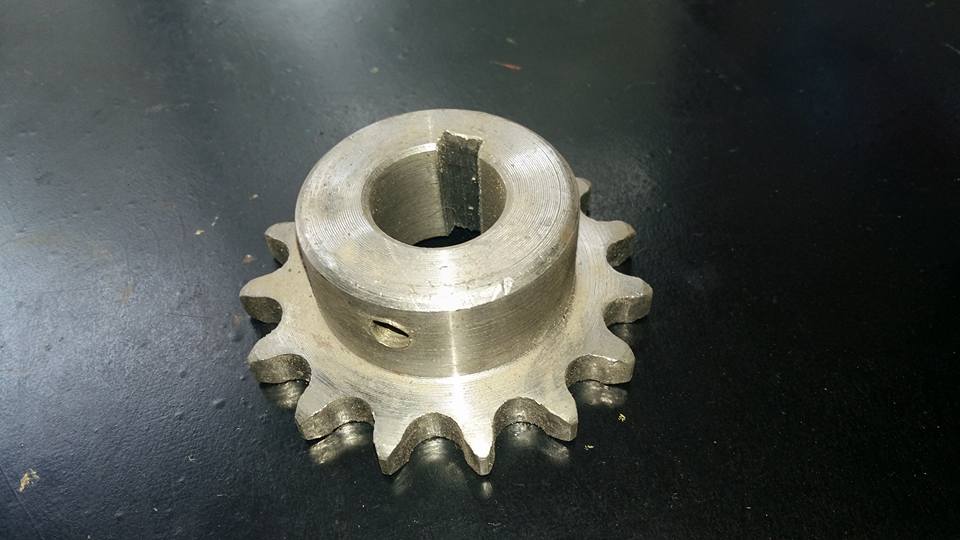 Sprocket manufacturing services, using our machining capabilities including conventional hobbing & climb hobbing. We can produce sprockets with a diameter from 1" to 60", and a CP (circular pitch) from 1/8" to 1.25".Our range of finishing services ensure the delivery of a precision, ready-to-use product : grinding, honing, and shaving. When required, we can also heat treat sprockets, using flame, nitriding, carburizing, or induction treating. We work with a full srange of materials, metal to plastic, from aluminum to stainless steel. Our production shop accepts jobs from prototype and short runs, all the way up to large scale production runs. Contact us with your project requirements for more information.
11. SPLINE SHAFTS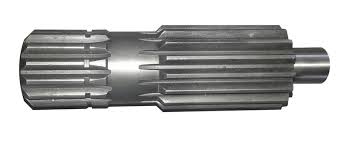 Spline cutting of shafts also under taken .

* Shaft Grinding
* Key Way
* Induction Hardening